12Th Business Maths Study Material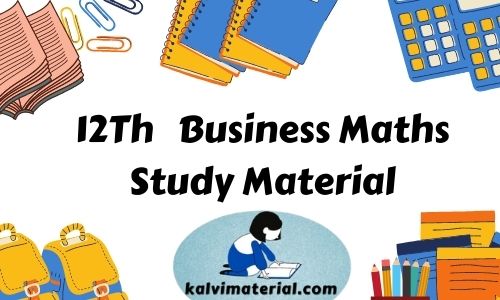 12Th Business Maths Study material Collection For Tamil Nadu samcheer kalvi new Syllabus.
Here we are providing new syllabus Business Maths Class 12 Study Material For Sample Guide ,Full Guide , Minimum Study material 12Th Business Maths guide pdf, CEO Minimum Study Material , Unit wise Study material And One Mark Question Answer Collection both Tamil and English Medium,12th Business Maths Question Paper . This Material are prepared by teachers for Student learn through online and them self . its very useful for student prepare government public exams and get high Marks This material Collection very useful for topper and bloomer students.
Business Maths Full guide
| | | |
| --- | --- | --- |
| Business Maths Sample Guide- Full Volume |Sura's | English medium | Download |
| Business Maths Sample Guide- Volume -I |Sura's | English Medium | Download |
| Business Maths Sample Guide- Volume -II |Sura's | English Medium | Download |
CEO Minimum Material
| | | |
| --- | --- | --- |
| Minimum Study Material |CEO Thiruvallur | English Medium | Download |
| Question Bank |CEO Chennai |Volume -I | English Medium | Download |
| Question Bank |CEO Chennai |Volume -II | English Medium | Download |
| Question Bank |CEO Chennai |Volume -I | Tamil Medium | Download |
Chapter Wise And Mark Wise Business Maths Study Material