NTSE – NATIONAL TALENT SEARCH EXAMINATION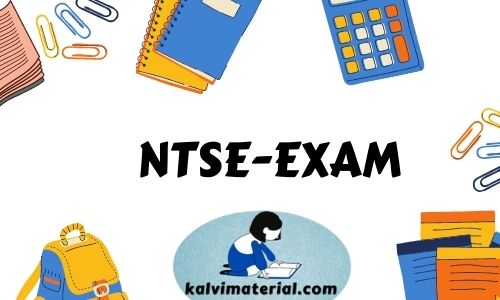 NTSE -National Talent Search Examination For the Students Studying in Class X is Meant to identify the nurture talent. The Examination is Conducted every year at Two Stage -1 (State Level) And Stage -2 (National Level)
NTSE -SCHOLARSHIP AMOUNT :
(a) Scholarship of Rs.1,250/- per month for Class-XI to XII.
(b) Scholarship of Rs.2,000/- per month for Undergraduates and Postgraduates.
(c) Amount of Scholarship for Ph.D. be fixed in accordance with the UGC norms.
RESERVATION:
The Reservation policy will be adopted as per guidelines given by NCERT for the selection of stage I examinations including 4% of physically challenged group of students and 27% of reservation has been provided for OBC candidates (Non-creamy layer) for the selection to stage I examination. 10% of seats will be reserved for the candidates belonging to Economically weaker section (E.W.S) who are not covered under the scheme of reservation for SC ST and OBC. These candidates Should enclose photocopy of certificate to get benefit as per reservation policy of NCERT. Physically challenged candidates should produce the national ID card with Medical Certificate along with the application and fees.
Selection :
Stage – 1 : Selection Will Be Done By State Level Exam
Stage -2 : Selection Will Be Done By Central Level Exam
ELIGIBILITY:
Students studying in Class X during 2020-21 in any recognized school are eligible to appear for the examination
NTSE –QUESTION PATTERN FOR EXAMINATION:

Paper I – Mental Ability Test (MAT)
Mark : 100
No. Question : 100 multiple-choice
Time : 120Min (9.00 A.M – 11.00 A.M) (30 Minutes extra for Visually Challenged)

Paper 2– Scholastic Aptitude Test (SAT)
Mark : 100
No. Question : 100 multiple-choice
Time : 120Min (11.00 A.M – 1.00 P.M) (30 Minutes extra for Visually Challenged)
The Question pattern for SAT will be based on the syllabus for Class IX and X prescribed by the STATE, CBSE and ICSE Examination Boards. For SAT paper the number of question allocated for each subject will be as follows:
MATHEMATICS – 20,
SCIENCE – 40,
SOCIAL SCIENCE – 40.
Medium
The tests will be available in the following languages: Asamiya, Bangla, English, Gujarati, Hindi, Kannada, Marathi, Malayalam, Odia, Punjabi, Tamil, Telugu and Urdu.
NTSE Qualifying Marks :
Qualifying Marks for candidates from SC/ST/PH Category is 32% in Each paper and for other (General/OBC&EWA)Categories it is 40% in each paper
QUOTA :
Tamil Nadu -466 candidates will be selected in the State Level NTS Examination.
QUOTA ALLOTTED FOR STATES/UTs (2018-2019 & 2019-2020,2020-21)
NOTE -Quota is revised after every three years
Andaman & Nicobar Islands 20
Andhra Pradesh 263
Arunachal Pradesh 50
Assam 202
Bihar 691
Chandigarh 20
Chattisgarh 195
Dadra & Nagar Haveli 20
Daman & Diu 20
Delhi 153
Goa 50
Gujarat 360
Haryana 186
Himachal Pradesh 51
Jammu & Kashmir 64
Jharkhand 142
Karnataka 371
Kerala 220
Lakshdweep 20
Madhya Pradesh 530
Maharashtra 774
Manipur 50
Meghalaya 50
Mizoram 50
Nagaland 50
Odisha 259
Puducherry 20
Punjab 183
Rajasthan 485
Sikkim 50
Tamil Nadu 466
Telangana 216
Tripura 50
Uttar Pradesh 1408
Uttarakhand 79
West Bengal 569
TOTAL 8387
HOW TO APPLY – NTSE EXAM -STATE LEVEL
Candidates are required to apply for State Level NTS Examination through their school only.
The Headmaster / Head of Institution / Students can download blank application forms through the website www.dge.tn.gov.in.
With the help of parent / teachers the students should fill up the application forms and return the filled in application forms to the Headmaster / Head of Institution concerned, along with Photo , Community/ Physically Challenged / EWS / OBC (Non-creamy layer) certificates and cash of Rs.50/- (Fifty only).
Candidates Should enclose photocopy of certificates self attested by parent and candidate with date on submission to get benefit as per reservation policy of NCERT. .
NTSE -FEES :
The candidate should pay a fee of Rs.50/- (Rupees Fifty only) in cash.
NTSE – NATIONAL TALENT SEARCH EXAMINATION STUDY MATERIAL